The 2021 Subaru Love Promise Community Commitment Award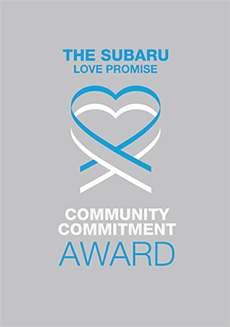 We've been nationally recognized for our dedication to our community and the Subaru Love Promise.
We're honored to receive the 2021 Subaru Love Promise Community Commitment Award. This award nationally recognizes Subaru retailers who are making the world a better place while demonstrating an outstanding commitment to supporting passions and causes in local communities. These efforts are focused in important areas such as the environment, community, health, education, and pets.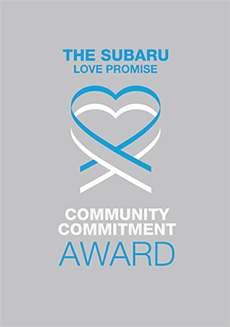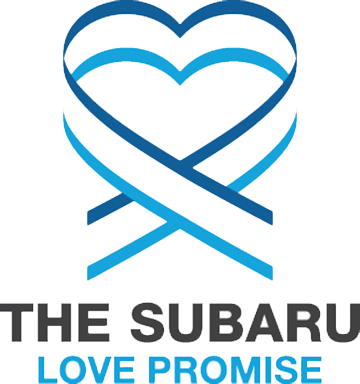 What is the Subaru Love Promise?
Subaru and our retailers believe in making the world a better place and the Subaru Love Promise is our vision of respecting all people. This is our commitment to show love and respect to our customers and to work to make a positive impact in the world.
How is Bertera Subaru Outlet in Hartford dedicated locally to the Love Promise?
Our Love Promise at Bertera Subaru Outlet can be seen in various partnerships with local charities and non-profits in the Hartford area. We're grateful for the opportunity, not only to be a part of the Hartford community, but to serve it as well.
National Wildlife Federation
Hartford Public Library, Hartford Public Schools
Toys 4 Tots, Make-A-Wish of CT
St. Francis Hospital & Medical Center
Love Promise Stories from Bertera Subaru Outlet in Hartford
Subaru and Bertera Subaru Outlet in Hartford believe in making a positive impact on the communities in which we live and work. We uphold that belief through our Love Promise Community Commitment. Every month, we select inspiring stories from customers and partners from around our area who strive to support our collective commitment and feature them here
Subaru Loves Pets | Adoption Day - Jane Z
More than a car dealership. Bertera Subaru is a great partner. In less than a week of the event, both Molly and Chevy left to their forever homes today. Both dogs benefitted and enjoyed the adventure. The exposure provided by meeting Bertera customers has resulted in more adoption applications. Our organization has been collaborating with Bertera Subaru for several years. The staff, as always, were friendly and supportive. We are very grateful for the opportunity to work with them. The dogs really felt the love at Bertera Subaru of Hartford!
---
Share the Love | Bertera Subaru of Hartford - Robert T
As part of the most recent Share the Love campaign, two Make-A-Wish® Connecticut employees were so inspired by Bertera Subaru's care and commitment to our wish kids that they personally purchased new cars – a 2020 Subaru Forester Touring and a 2020 Subaru Ascent during the Share the Love campaign. We feel so strongly about our partnership with Bertera Subaru that we wanted to demonstrate our commitment and share our love with them in a BIG way! "All of us at Make-A-Wish® Connecticut are so grateful for our long-term partnership with Bertera Subaru. Everyone at the dealership, from the owners to the employees to the customers, have demonstrated a deep caring for and commitment to our mission to grant life-changing wishes to Connecticut children battling critical illnesses. We are thrilled and honored to partner with such a community-minded business and look forward to many more years of creating smiles and delivering hope to the wish kids in our state." - Pam Keough, President & Chief Executive Officer, Make-A-Wish Foundation of Connecticut, Inc.
---
Bertera Subaru of Hartford & Make-A-Wish CT - Robert T
Bertera Subaru has been partnering with the Make-A-Wish® Foundation of Connecticut for more than ten years. But this partnership is not what we would call a "typical" partnership. On May 8, 2019 Bertera Subaru pulled out all the stops to create an Italian-themed bon voyage party for wish kid Audrey as part of their formal Share the Love check presentation for an amazingly generous $85,000 – enough to grant more than eight wishes to local children. As quoted by the * Hartford Courant*, "The check made out to Make-A-Wish was not only the largest contribution from any Subaru dealer in New England, it was also the largest contribution to Make-A-Wish from any Subaru dealer in the United States." Print and broadcast media captured the event ( https://www.nbcconnecticut.com/on-air/as-seen-on/car-dealer-donates-money-to-make-a-wish_hartford/153714/) and included full staff and community participation. This event is just one of many that has solidified Bertera Subaru as a local business that makes an enormous impact on wish kids, wish families and the community at large. "We are very proud, not only about the money we were able to collect and donate, but that all of these funds will stay local here in Connecticut for Connecticut families who are in need of a little hope and inspiration for the challenges they are facing," shared John Inghilleri, General Manager of Bertera Subaru Outlet of Hartford.
---
Bringing Warmth and Love to the Cancer Patients! - Daniela V
Bertera Subaru and The CTWHV Chapter of the Leukemia & Lymphoma Society (LLS) have partnered to make a difference in the lives of people battling cancer in the Wethersfield community. The partnership called Subaru Loves to Care provides warm blankets and loving messages of hope and inspiration written by Subaru customers to patients fighting cancer at the Wethersfield Infusion Center. HUGE Thank you to Bertera Subaru for donating 80 beautiful blankets to Wethersfield Infusion Center to spread warmth to their patients. Patients are in the infusion center for hours at a time and these blankets keep them warm as they are going through treatments. Staff from Bertera Subaru came, and with them was one of our good friends and Light The Night captains Tim Austin. On behalf of LLS and everyone fighting or in remission from cancer and the people who love them, huge and heartfelt thanks to Bertera Subaru and the entire Bertera Subaru family for joining the LLS mission to create a world without blood cancer.
---
Bertera Subaru and Make-A-Wish Connecticut - Tony Q
Sixteen-year-old Audrey Mainville's arrival at Bertera Subaru Outlet of Hartford would have been appropriate for a visiting celebrity. She and her family received a police escort that brought them to the showroom's front door, where a red carpet had been carefully unfurled. Upon arriving from the car, she was greeted by the CCSU cheer-leading squad. Once inside, the deputy mayor of Wethersfield, Tony Martino, was on hand to help welcome her. The Mainville's live in Wethersfield. Audrey Mainville, however, is not a nationally known celebrity. Instead, she is a young woman who has battled a life-threatening medical condition for most of her life. As a result, she was eligible to have a wish fulfilled by Make-A-Wish, which is an organization that seeks to fulfill the wishes of critically ill children and their families, an effort that can be life changing. Granting a wish not only brings joy to a child struggling with illness, it can have a positive effect on medical treatments, according to Richard Davis, president and CEO of Make-A-Wish.This Make-A-Wish ceremony, held on May 8, 2019 at Bertera Subaru, was to serve a dual purpose. It took place just before Audrey and her family were slated to depart on a tour of Italy, which was her wish. For her, it was a Bon Voyage party."I've always wanted to go to Italy," Audrey said. "My family always wanted to go." Now thanks to Make-A-Wish, that dream will come true.Audrey, who faced her first heart surgery when she was just one day old, has had a difficult time with her illness. "I was actually picked last year," she said, adding that just being selected by Make-A-Wish buoyed her spirits. Now, the trip is about to start and, while at this point in her treatment her medical condition should not interfere, it is "always something that I will have to worry about," she said.Also present at this celebration was a previous Make-A-Wish recipient, 10-year-old Sophia Franco of New Hartford. She was quick to note that she was just days away from turning 11, however, before saying that she loved her trip to Disney in Florida. "We stayed at Give Kids The World [Village]," said her mother, Tracy. "They work with Disney, and its run by volunteers. It was a wonderful, life-changing experience." The other reason for this celebration was the presentation of a donation, from Bertera Subaru, to Make-A-Wish. Kim Smith, the director of corporate and community giving at Make-A-Wish was on hand to receive the check made out to Make-A-Wish for $85,492. That is enough to pay for the granting of nearly nine wishes, since the average wish costs approximately $10,000. Bertera Subaru's owner, Razmik Ghazarian, then surprised Smith and the audience of about 70 people with the announcement that Bertera's goal had been to raise$100,000 in the Subaru Share the Love initiative, which raises money for charities based on the sale of new Subaru's during the months of November and December. Having fallen short of this $100,000 goal, Ghazarian announced that Bertera Subaru would make up the difference by the end of the year.Smith was visibly moved. Subaru's association with Make-A-Wish started nearly a decade ago when Subaru added Make-A-Wish to its list of charity partners for its annual Share the Love program. Since then, with the substantial support of its 631 dealers nationally, Subaru has donated more than $20 million to Make-A-Wish, according to Michael Carr, Vice President of Sales, Subaru of New England. Locally, Bertera Subaru Outlet of Hartford has now lent its full support to Make-A-Wish during Subaru's Share the Love initiatives. It is a relationship that has grown over the past five years.Initially, Ghazarian said, the dealership saw donations generated by this program go to a variety of charities, but then he and others at Bertera Subaru met some of the children who were granted wishes. It was a turning point, seeing the life-changing effects that Make-A-Wish can have, Ghazarian said. "We saw the children and their families. We saw the smiles. We wanted to support a local charity and thought these kids could get the most [from our contributions]." Since then, he and his staff have encouraged customers who buy during Subaru's Share the Love program to select Make-A-Wish as the recipient of the charitable contribution the sale generates. About 95 percent of their customers now choose this charity after learning about its work from Bertera employees.
---
Share the Warmth¦Bertera Subaru of Hartford - Sebastian L
Throughout September and October Bertera has partnered up with South Park Inn and The Springfield Rescue Mission for the annual Share the Warmth Coat Drive! This is the 4th year Bertera has launched their Share the Warmth Coat Drive and they've donated over 700 coats since its conception. They started the coat drive by originally filling a FIAT but as time went on so did the coat drive's reach. In just one year they doubled the number of coats received, they increased the number of shelters receiving coats and increased the number of locations accepting donations. This allowed the auto group to donate to shelters in Western Massachusetts, Central Massachusetts, and Connecticut. Bertera is now filling Subarus, Jeeps, Chevys, and even Mitsubishis up to the brim with coats annually and everyone is glad to be a part of it.
---
Automotive Safety¦Trinity Health & Safe Kids CT - Sebastian L
One of our greatest achievements has been our partnership with Trinity Health and Safe Kid CT! Families across Connecticut and Massachusetts attend our free checkpoint every month! Trained Automotive Safety Experts show parents and guardians proper installation techniques as well as best practices to keep your child safe while in a vehicle. When clients call ahead to reserve their spot they may also qualify for a free car seat to go with their free car seat inspection. This allows everyone the same access to the same automotive safety course without any money out of their pocket. We appreciate everything Trinity Health and Safe Kids CT has done for us and look forward to our future together!
---
Love Promise Blanket Delivery - Brandy S
On July 3, 2018 The Leukemia & Lymphoma Society (LLS) staff members Stephen Morelli and Brandy Sinisi met with Timothy Austin and his team from Bretera Subaru (Hartford, CT), to deliver blankets and messages of hope, to Hartford Hospital. We were greeted by Sharon Nelson and others on her team who were very grateful for the donation to their patients. Once unloaded we took pictures outside the Conklin Building at Hartford Hospital. We then brought all of the boxes of blankets and cards of hope into the building and up to the floor where they would be given out to patients. Everyone was very excited for this donation and already started identifying people they knew could use them. We were told that many patients undergoing chemotherapy get cold while they are sitting during their treatment, these blankets will certainly help with that.
---
Bertera Subaru of Hartford & Thirman L. Milner - Roxanne C
September is Attendance Awareness Month, we wanted to start the year off with a "BANG". Any student with perfect attendance from 8-29 thru 9-28 would earn a ticket to The Big E for the student & 1 parent. We secured the entry fee but knew the fee for the rides would be a challenge. We began fundraising very early, however, the progress was slow. Principal Lott received an email from Sebastian at Bertera Subaru inquiring if his organization could assist Milner with back to school needs. A request for wristbands to the Big E was unusual, however, "you have not because you ask not!" From the onset of our communication with Bertera, Sebastian exuded A+ customer service. He wasn't selling a car, he was working with a school's wish list. He was professional, understanding and very accommodating. His desire was to spread joy to others through their program, SUBARU LOVES LEARNING. He answered all my questions & even though some of the Milner requests where not the direction Subaru wanted to go, he always shared them with his team & would get back to me with their decision. Sebastian, thanks for your positive, promising attitude. It kept us hopeful. When informed that all eligible students would receive a wristband, the entire staff were ELATED. Thanks to TEAM Bertera, 182 students were able to enjoy New England's rich culture and Unlimited Rides at The Big E (for most of our kids that would be their only visit to the Park).
---
Holiday Wishes with Bertera & Make-A-Wish - Sebastian L
For the past two years, we have proudly worked with The Make-A-Wish Foundation to make wishes come true. However, during the holiday season, we put our focus on making the upcoming holiday as special as possible for the children working with the Make-A-Wish Foundation. We collect toys from our friends, family, customers, staff, and more in the back of one of our Subarus and then donate it to The Make-A-Wish Foundation where it's distributed to children in Connecticut. This past year we collected over thirty toys just at our location and hope to double or even triple that number this year! We appreciate everything The Make-A-Wish Foundation does for the kids and we're glad to be apart of such a special cause.
---
Car Seat Safety with St. Francis Hospital! - Sebastian L
For the past year, we have worked with the Saint Francis Hospital and their Safe Kids Program to ensure every child that comes to one of our monthly Car-Seat Checkpoints goes home with a properly fitting car seat, free of charge. Every month, a group of Car Seat Safety Technicians comes into our dealership to help train parents or guardians on proper car seat techniques like how to install your car seat, what clothes shouldn't be worn in the car seat, and when you should get a new car seat. The parent(s) and child(ren) then go through a quick course to make sure they can install a car seat the correct way. If all of these requirements are met, they leave our location with a new car seat and a safe kid! We urge all parents to attend one of these checkpoints for the safety of their children. We look forward to future checkpoints with the Saint Francis Hospital and their Safe Kids program and you should too.
---
Cameron's Wish to go to Hawaii - Sebastian L
Bertera Subaru Outlet in Hartford has been a proud partner of The Make-A-Wish Foundation of Connecticut for a few years now. When we were approached to see if we were interested in making Cameron's wish come true, we couldn't resist! Cameron's wish was to send his whole family to Hawaii for a vacation. On December 14th, we invited all our customers, friends, and family to help us send Cameron and his family off to Hawaii the right way. We had a party with music, games, and food! Some of past wish kids even came by! We presented Cameron with his new water-proof GoPro just in time for him to use it in Hawaii. We love working with the Make-A-Wish Foundation of Connecticut and truly cannot wait to participate in another event.
---
Subaru Loves Learning with Bertera! - Sebastian L
During the month of August our dealership was lucky enough to partner up with Hartford Public Schools and The Hartford Public Library to organize a fundraiser and a School Supply Drive before the kids returned to school. Throughout the month we reached out to as many of our customers as we could to help us in our goal. Many of our loyal customers, employees, friends, and family all came together to make sure the students in the Hartford area were prepared for the upcoming school year. We also received some book donations from many of our customers and dropped those off at the Hartford Public Library! Helping our community is only a start, we still have much more work to do.
---
Adoption Day With The Simon Foundation! - Sebastian L
On December 25th, we welcomed The Simon Foundation into our dealership with three of their lovely animals. Every customer that walked through our doors was greeted by the dogs and it sure made our customers smile! We had a number of families submit inquiries to meet with the animals at a later date to see if they family would make a good fit. The more time we had to spend with each dog the more we learned about their individual personalities. Isabelle was shy at first but once she got comfortable she quickly became the crowd favorite. The kids love that she was so willing to sniff their faces and give them a nice wet smooch. Will, on the other hand, was excited when he first arrived but quickly acclimated to his surroundings and calmed down accordingly. Finally, we have Harley who was actually the most gentle of the three dogs. We had a blast playing and learning more about each of these dogs and hopefully, we can aide them on their road to adoption. It was a wonderful experience that we hope we can share with our customers once again.
---
Pets Adopted through the support of the Simon Foundation and Bertera Subaru - Bob S
Bertera Subaru of Hartford is proud to join The Simon Foundation, holding multiple Pet Adoption Days at the dealership. Customers, friends and family can come in any see these beautiful animals in the showroom! The Simon Foundation is a 36,000 square foot state-of-the-art, no kill, animal rescue and adoption center located in Bloomfield, CT. They offer a number of professional services including: Training, Grooming, and Boarding. All of the proceeds from these services go directly to the care and rescue of dogs and cats. One of our own salesmen has given one of the puppies a new home! It is a well-known fact that Subaru's are "Dog Tested. Dog Approved.", which makes The Simon Foundation something we truly are proud to be a part of. We often have our customers' pets approve of their new vehicles before purchasing! Having these events at our dealership helps bring the community together and, above all else, helps pets get adopted!
---
Bertera Subaru and Merrell Mud Run support Operation Gratitude - Camille O
If so, then the Merrell Down & Dirty National Mud and Obstacle series race presented by Subaru might be for you! This event goes around the country, as it is a trailblazing, obstacle climbing course for those who like to get muddy and feel like they're in the army for the afternoon. They offer 2 courses (3 and 6 miles) and have races for kids, too. Not only is this event fun for the whole family, it gives back to our Veterans as part of Operation Gratitude, a Los Angeles fund set up for sending care packages for US Military currently deployed. This weekend the race came to Hartford, as many came out to Riverside Park to race, support runners and come out for a good cause. Running the race is no more than $85 (as little as $50) and all supports a good cause (not to mention having a full day of having fun in the mud). Subaru is a big sponsor of this event, which makes sense as Subarus also do their best work in the mud. Getting down and dirty, messy, and all for a good cause is what makes Subaru proud to sponsor this awesome event. Partnering up with events that share Subaru's passion is what makes Subaru a true and honest brand to be a part.
---
Partnering With High Hopes Therapeutic Riding to Serve Our Community - Susan S
During the holiday season, High Hopes Therapeutic Riding in Old Lyme was proud to have partnered with Bertera Subaru of Hartford in the national Subaru of America, Inc. "Share the Love" event, designed as a way for Subaru dealers to give back to their local communities. Under the "Share the Love" program, Subaru is donating $250 for every new Subaru vehicle sold or leased, from November 21, 2013 to January 2, 2014, to the customer's choice of charity. Bertera Subaru customers had the opportunity to designate High Hopes as their charity and High Hopes will use these funds to directly support its equine assisted therapy programs, including: riding, carriage driving and unmounted equine learning programs. Presently High Hopes underwrites 75% of every rider's actual cost which is borne by contributed income received from donors and events such as Subaru's "Share the Love". High Hopes is one of the oldest and largest therapeutic riding centers in the United States, operating since 1974 and accredited by PATH Intl. (formerly the North American Riding for the Handicapped Association) since 1979. Annually, High Hopes serves over 1,700 individuals. Assisted by over 650 volunteers and a herd of 27 horses specifically trained for therapeutic riding, High Hopes is committed to providing the highest quality of services to the community and we are proud to work with them.
---