October 24th 2020 . Hartford CT 

Subaru Love Promise | 2020 Love Pets Month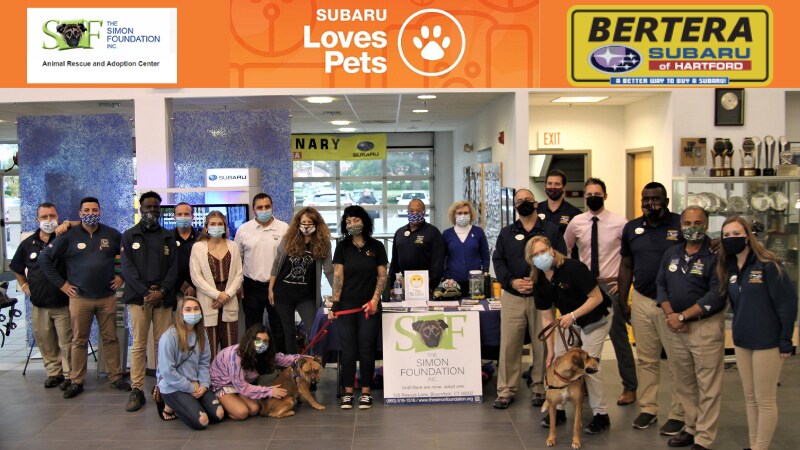 In-store live adopt-a-pet event to coincide with "Subaru Loves Pets" month was held on Saturday, October 24 from 11 am to 4 pm at Bertera Subaru Outlet in Hartford CT. As part of Subaru's, Love Pet Event, Bertera will donate $100 per pet adopted for THE ENTIRE MONTH of October to Simon foundation.  The Simon foundation from Bloomfield CT is a NON-KILL animal rescue and adoption center.
June 26th 2019 . Wethersfield CT 
Subaru Loves To Care Event  2019
Each year in June, Bertera Subaru of Hartford  participate in the  "SUBARU LOVES TO CARE" Event. In partnership with the Leukemia and Lymphoma Society and  Subaru of America . This very important campaign is intended to bring hope and comfort to those facing the challenge of cancer in our community. Bertera staff delivered blankets and message of hope" cards  to patients receiving treatment at the Wethersfield Infusion Center.
May 8th 2019 . Hartford CT 
Share The Love Check Presentation 2019

NOT ONLY the LARGEST amount collected IN NEW ENGLAND FOR ALL SUBARU DEALERS for their local charity, BUT 9TH IN ALL OF SUBARU OF AMERICA, ~700 dealers!! we are VERY proud not only the amount of money we were able to collect and are able to donate (including a large bertera match $) but that ALL THE MONEY WILL STAY LOCAL HERE IN CONNECTICUT for CT families in need of a little inspiration for their challenges they are facing!! 
To everyone at Bertera Subaru,
We didn't want the evening to end without one more huge thank you for the incredible event today at your store in honor of Make a Wish and in celebration of Audrey's trip.  It truly was incredible and our whole family is grateful for everything you did to make it so special.
What you raised for Make A Wish is phenomenal.  The amount of families who will benefit from your generous donation is incredible.  I hope you know how much it means to a family like ours.
I chose not to read the attached this afternoon but prepared it for today's event.  I regret not reading it.  I feel it's important to know the child's story and wanted to share it with you.  Audrey looks so healthy and honestly at this point, she is doing great but she has been through so much.  I wanted to share it with you because I want you to know how much this means to us. 
We thank you again for an incredible day and look forward to hearing about future wish kids enjoying their wishes, thanks to your generous donations. 
Thank you again for everything.  Please pass this along to Michael Bertera and anyone else you feel is appropriate. 
Hope you have a wonderful evening.     
Charlene and Rich Mainville
July 3rd  2018 · Hartford, CT

May 17th. 2018 · Hartford, CT
Share The Love Check Presentation  with 
Make-A-Wish Connecticut
! We had a great time and can't wait to do it all again!

Sept. 28, 2017· West Springfield, MA · 
Today was a very special day for all of us here at Bertera Subaru of Hartford! Today we went to The Big E with 180 of our friends from The Thirman L. Milner School in Hartford, Connecticut! 

This was all made possible through the #SubaruLovesLearning Campaign held through September! Every student with perfect attendance was provided with a free wristband that allowed them access to unlimited rides! We believe any parent & student that puts forth the initiative to get to school on time every day deserve a day of fun every now and then. A huge thank you to Subaru of America, Inc., Subaru of New England, Hartford Public Schools, The Big E, and all of the students enrolled at Thirman L. Milner School! #BerteraCares #SubaruLovePromise