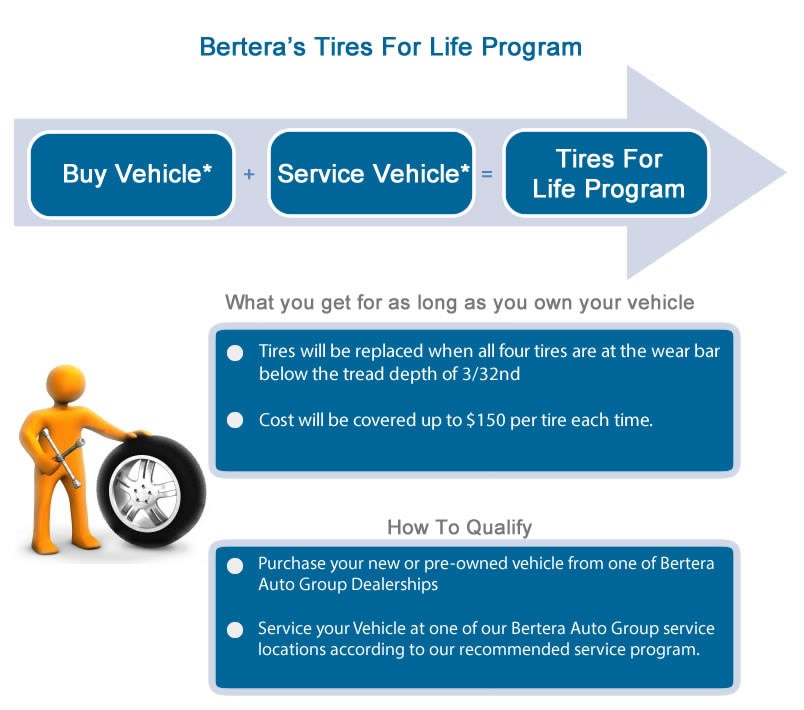 FAQs

How do I get Tires for Life?
Purchase your new vehicle or used vehicle from any Bertera Auto Group Dealer and perform all of your regularly scheduled maintenance* with us and we will replace your tires when they wear out.
What services have to be performed?
Maintaining your vehicle, like any vehicle, is the best way to protect your investment. Only the regular scheduled maintenance as recommended by our service departments maintenance schedule booklet need be done.(ask our service managers for a copy)

Are there any hidden charges?
Absolutely NOT. This is a benefit we provide to our Guests as a reward for purchasing and maintaining their new vehicle with us. No inflated cost or phony pricing on service.
Are there any conditions or fine print?
Model restriction applies. Not all models may qualify for tire program. See dealer for complete program details and model eligibility.